UPDATE: you can listen to the full talk here
Coming up on 8th February 8-9pm… with optional Q&A until 9.30pm
Bringing you an hour of open, engaging conversation via Zoom to give you inspiration, hope and practical insights for your relationship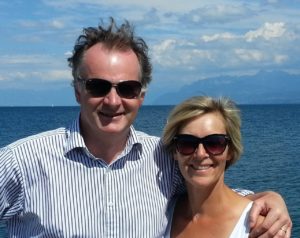 Harry & Kate Benson
JOIN us for an hour of raw, real life relationship stories with COUPLES TALK. Open and honest interviews to give you encouragement and support for your relationship.
Whether your relationship is flourishing or you need some encouragement to keep going, we all need to give time to our relationship – even a great marriage can be improved!
It's MORE than conversation, with interactivity and "takeaways" …read on!
This month we will be interviewing Harry and Kate Benson on the theme of "Happy Wife, Happy Life". Harry and Kate have been married for 34 years, have six children in their late teens and twenties, and live on a smallholding in Somerset. Harry's career spans Royal Navy helicopter pilot to partner in a small finance firm in Asia to research director for Marriage Foundation. Kate trained as a cookery writer and teacher and has recently set up a local project cooking 350 meals a week for needy families. Surviving a marital crisis in the 1990s changed their lives. Their 2017 book "What Mums Want (And Dads Need To Know)", reached number 11 on Amazon.
Harry and Kate did the classic thing of drifting apart after their first two children were born. Their inspiring story of a back-from-the-brink marriage is for all those Harrys and Kates who need never get into the mess in the first place.
The key message is husband love your wife and she will love you right back, in that order.
How it works
Tune in with audio only if you feel like simply watching and listening. Or interact fully via the chat box – there will be time for your questions to be answered. You'll also receive our TAKEAWAYS …these are next steps to help you grow a stronger and thriving relationship together.
Booking
As this event is our gift to you Entry is FREE, although a ticket is required. If you are living in the same place as your partner, please register for 1 ticket and use the same device to connect to Zoom. (Please check your junk/spam folder for the zoom link, if you cannot see it after registering).
If you are in separate locations, you will need to register for 2 tickets, so
you can use more than one device to access Zoom.
Numbers limited, book your FREE TICKET here
As a first, this event will also be live-streamed onto the FamilyLife facebook page
In case you need more convincing, below is some feedback from those that have attended a Couples Talk event already.
"Amazing story, love your family. Such wisdom and learnings this evening."
"Thanks Family Life, these couples talks are so useful and helpful."
"Thank you so much for this evening, very special family and we are most grateful for your vulnerability and authenticity, big BIG love to you!"
"Thank you for sharing your story it's been very encouraging and it helps us to keep believing we can get through difficulties."