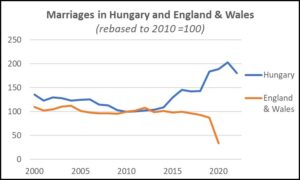 Harry Benson will be speaking at the Budapest Demographic Summit 14/15 September
If the UK has any kind of family policy, it revolves around childcare and getting parents into work. Aside from regulatory changes, government almost entirely avoids distinguishing marriage, the family form most closely associated with couple stability and beneficial child outcomes. It is nine years since any cabinet minister gave a serious speech discussing marriage.
The UK government's ambivalent attitude towards marriage couldn't be more obvious than when comparing with the enthusiastically 'family friendly' Hungary.
In 2010, the Hungarian government implemented a series of financial incentives aimed at addressing a national fertility rate well below the EU average. Several of these incentives – tax breaks for newlyweds, up to £93,000 in loans that can be written off – were explicitly linked to whether couples are married.
The consequence was that from 2010 the number of marriages in Hungary rose by 84% before lockdown in 2019 and 89% by 2020. Hungary was the only country in Europe to see an increase in new marriages during the first year of lockdown, rising 3% against the previous year.
In sharp contrast, for decades UK government policy has failed to distinguish between married and cohabiting couples in both tax and benefits systems. Although married couples have greater protections in the event of death, retirement or separation, the only current financial advantage in getting married is a £252 tax allowance for low-income couples introduced in 2015. However there remains a substantial 'couple penalty' for low-income couples who stand to lose £'000s in welfare payments if they move in together or marry. This is a serious barrier to marriage among the poorest that has been completely neglected by politicians. Marriage is increasingly the preserve of the better off.
The consequence is that the number of marriages in England & Wales fell by 13% between 2010 and 2019. Yet while marriages in Hungary rose by 3% during lockdown year 2020, a temporary ban on weddings followed by tight restrictions in England & Wales saw the number of marriages collapse by 61%, the sharpest fall in any country in Europe.
Although the UK's eventual marriage figures for 2021 and 2022 will likely show a significant rebound, Hungary has shown that if family policy backs marriage, people will follow.
Harry Benson, Research Director, Marriage Foundation
11 September 2023