Analysis of data from the Office for National Statistics shows that the 'marriage gap' between rich and poor has doubled in 30 years.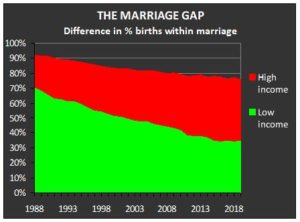 Whereas in the lower income groups, 68% of parents of newborn babies in England & Wales in 1988 were married, this proportion had fallen to 35% in 2019. However in the higher income groups, 91% were married in 1988 falling to 76% in 2019. The 'marriage gap' between rich and poor has thus almost doubled from 22% to 41%.
One significant barrier to entry for many is the high perceived cost of a wedding. Half of unmarried men and one third of unmarried women cite cost as a reason for not marrying.
So we applaud and welcome new proposals from the Law Commission to allow weddings to be conducted in a field, a pub or a McDonalds, thus radically reducing the perceived need for an expensive venue and expensive meals which comprise the vast majority of costs.
It may also be that as people get used to COVID restrictions limiting wedding celebration numbers to 15 or 30 people, smaller weddings become more of a norm.
However two American studies have found that having MORE guests and spending LESS money are each associated with greater subsequent marital happiness and stability. More guests is important because they affirm the couple's choice to commit. Less money is important because costs influence the risk of subsequent debt and financial problems.
Either way, if a reduction in wedding expectations and perceived costs opens the way for a resurgence of marriage among lower income couples, this would be good news indeed.
Weddings should not be a barrier to marriage.